Naturalcare Mucusfix Nasal Spray .5oz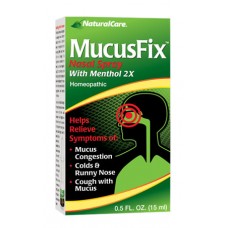 For fast relief of mucus congestion due to colds and sinus congestion. MucusFix Nasal Spray with Menthol 2X goes to work with the first spray The human body is designed to manage mucus through natural functions, which is why our noses get runny and we cough. MucusFix Nasal Spray is fast acting homeopathic products with Menthol 2X to help decongest your nasal cavities. Additional homeopathic ingredients in a proprietary soothing saline blend help to relieve symptoms of mucus congestion, cough colds and runny nose.
This homeopathic combination has been formulated in compliance with the Homeopathic Pharmacopeia of the United States.
Directions
Adults and children, over the age of 6, spray once or twice in each nostril. Repeat every 4 hours or as needed, or take as directed by your doctor. For children under the age of 6, ask your doctor. Parent or care provider must supervise the use of this product by young children.
Active Ingredients
Guaiacum 3X; Adrenalinum 6x; Bryonia 6x, 12x, 30x, 200x; Drosera 6x; Dulcamara 6x; Kalf Bichromicum 6x, 12x, 30x, 200x; Mentholum 2x; Sanguinaria Canadensis 6x; Sulpher 6x, 12x, 30x, 200x
Other Ingredients
Benzylkonium chloride, benzyl alcohol, glycerine, potassium chloride, potassium phosphate, purified water, sodium chloride (saline), sodium phosphate
---
Important Information
*All product statements on this website have not been evaluated by the Food and Drug Administration. The products on this website are not intended to diagnose, treat, cure, or prevent any disease.
While Super Natural Distributors works to ensure that product information is correct, on occasion manufacturers may alter their ingredient lists, product size, and/or packaging. Actual product packaging and materials may contain more and/or different information than that shown on the Super Natural Distributors website.
---