A. Vogel Venaforce Gel 3.5oz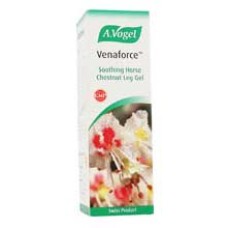 Brand:
A. Vogel
SND#: 6453003
UPC: 364031530036
Venaforce Soothing Horse Chestnut Leg Gel helps reduce the appearance of spider veins, varicose veins and broken capillaries and complements the action of Venaforce Tablets.
Helps reduce the appearance of spider veins and varicose veins
Made from fresh, wildcrafted horse chestnut seed
Standardized to 2% Aescin
Backed by clinical study
Composition
Purified water, alcohol, horse chestnut seed extract (standardized to 2% Aescin), hydroxypropyl methylcellulose, caprate glycerin, ployglyceryl-3.
Dosage
Gently apply a thin layer of the gel twice a day to the affected area. Not to be used on open wounds or on red or swollen skin.
Precautions, contraindications and interactions
Interactions with other medicines, toxic effects of overdosage, contraindications are not known in humans.
Made according to Swiss Pharmacuetical GMP's
---
Important Information
*All product statements on this website have not been evaluated by the Food and Drug Administration. The products on this website are not intended to diagnose, treat, cure, or prevent any disease.
While Super Natural Distributors works to ensure that product information is correct, on occasion manufacturers may alter their ingredient lists, product size, and/or packaging. Actual product packaging and materials may contain more and/or different information than that shown on the Super Natural Distributors website.
---