About Us
Super Natural Distributors
Trish Calvy started Super Natural Distributors in 1984 when, at the request of one of the founders of a new company called Pep Products, she visited several local natural food stores to show them the innovative line. This went very well and Trish really enjoyed meeting the owners and employees of the stores. She soon was contacted by the stores because they were selling out of the products quickly so she decided to stock the products locally so that she could get them to the stores ASAP.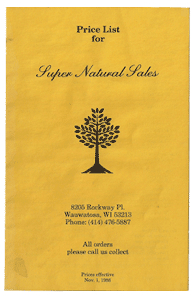 Shortly afterward she was contacted by another company Laci Le Beau who had heard about her successes and asked her to sell their products too. This went very well also and soon she recruited her youngest sister Maureen to help. They initially worked out of the basement of the large family home that their Father, an M.D. and their Mother a nurse had purchased in the early 1950s and in which they had raised their family of 8 children. Their parents were very accommodating but when semi-trucks began to drive down the street of this quiet, residential neighborhood Trish realized it was time to move to a real warehouse.
As the customer base grew and the variety of products increased, Trish hired Cindi Coddington: an old friend and neighbor who she had known since kindergarten. Many more employees followed, including Trish's sister Colleen who joined our staff in 1999 and who holds a master's degree in nursing from Marquette University.
After 5 moves in 25 years, Super Natural now resides in a 38,000 square foot building in the metropolitan Milwaukee area and now carries about 10,000 skus (stock keeping units) from over 350 vendors.
Throughout the years, we have seen many changes in the natural products industry, as have those of you who have been around for awhile. One thing we know that has remained a constant is that working at Super Natural is a fun adventure, and that we truly have the best customers in the world as you are all people who care about the health and well-being of others.